125 hp 620 Injection Pump Package (Electric)
125 hp 620 Injection Pump Package (Electric)
Supporting Documents (3)
library_books
---
Notes:
Equipment Overview
Up to 560m3/day or up to 3748psi discharge pressure – this full sour water injection / disposal pump package is sitting right now in Three Hills, AB and can go to work immediately after installing your choice of plungers! The Union TD-120 Pump is the only part that is in a reconditioned state, everything else is in unused/new condition. Fortunately, we did the pump work ourselves, so we offer a full 1 year warranty on it – the same that you would get if you bought a NEW pump from Union or National.
There is one 3 bag filter (coated) included, but we have the room, spool pieces, and extra identical filter to install a second one if you require. As mentioned, this a sour unit; coated pipe, no TOL's, linebacker gaskets, sour valves etc. A full drawing and QA package included. With this pump package you are getting everything you love about new, combined with a price that you can brag about. Requires only electrical wiring to JB's and it is ready to go!
This unit is also a perfect candidate for an optional conversion to a pipeline LACT unit. Watch the video walkthrough below as it details the simple adjustments to alternatively convert it from a water injection/disposal application to LACT.
Video Walkthrough
Watch a detailed video tour walking through this water injection/disposal pump package and see specifics on how it can optionally be converted to become a pipeline LACT unit.
Optional Conversion to Pipeline LACT Unit
To optionally convert this to a pipeline LACT unit we would take out the three-bag filter, put in a coriolis, a BS&W, and a three-way valve. This conversion from its current pump package configuration to a LACT unit can be completed in less than three weeks. Contact us to discuss the specifics of this alternative option.
360º Virtual Tour
Explore this package in rich detail through a virtual walkthrough below.
Main Pumps, Motors & Assemblies
P-200 Triplex Pump:
One (1) REMANUFACTURED UNION TD-120 Pump "M" Fluid End
Client choice of plungers
3" Suction, 2" Discharge Connections
3 Feed Lubricator w/ Oil Reservoir
Sheave Kit and Belt Guard
Mounted on sub assembly skid and attached to main skid
Zero-Hour Overhaul c/w 12 month warranty
M-200 Motor
One (1) NEW 125HP Electric Motor
WEG
TEFC, Roller brg. drive end
1800 RPM
VFD Rated
460V/3/60
PD-100 Suction Stabilizer ​
One (1) Status Flow or equal Pulsation Stabilizers
300 cu/in
3" 150# RF
CRN for BC, SK, AB, MB
PD-200 Discharge Stabilizer
One (1) CoorsTek or equal Discharge Pulsation Stabilizer
300 cu/in
2" 1500# RF
CRN for BC, SK, AB, MB
P-100 Charge Pump ​
One (1) NEW Grundfos CRN 20-3 Centrifugal Pump
All Wetted Parts Stainless Steel
Rated at 120 gpm @ 65 psi
Low NPSH Impeller rated at <5ft npshr
M-100 Charge Pump Motor​
One (1) 7.5 HP WEG Motor
TEFC, 3550 RPM
460V/3/60Hz
F-100 Filter Vessel:
New P2 3 Bag Filter Vessel
Internally Coated
MAWP 150 PSI @ +300F/-20F
4" 150# RF in/out Connections
Rated for 815m3/day
AB/BC/SK CRN Registration
Piping connections for 2nd filter
2nd 3 bag filter currently in stock
Pump Performance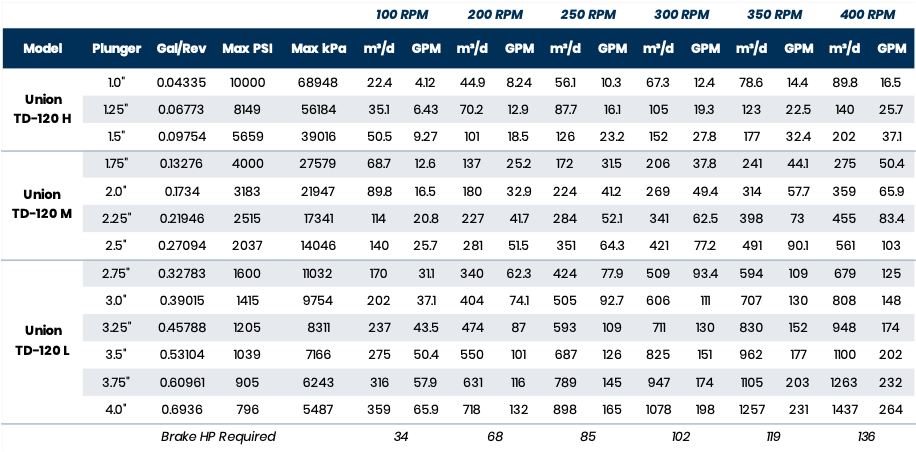 Instrumentation
PI-100 P-100 Inlet pressure indicator (0-15 psi)
DPI-100 F-100/200 Differential Pressure Indicator (0-30 Diff Pres)
PI-200/300 P-100 Discharge pressure Indicator (0-160 psi)
PSL-100 P-200 Low suction pressure Shutdown Switch Low (6900GZE14 SET FALLING TO 25 PSI)
PI-200 P-200 discharge pressure Indicator (0-3000 PSI)
PSH-200 P-200 High discharge pressure Shutdown Switch High (6900GZE22 SET TBA)
PSV-200 Pressure Safety Valve (SET RISING TO TBA)
FT-200 1 ½ x 2 EZ-IN (2" 1500# RF) Turbine Flow Meter
FQI-200 Flow Totalizer MCIII EX
VSH-200 P-161 High Vibration Switch
LSL-200 P-161 Low Oil Level Shutdown
Piping
All Pipe included in this package is Internally Coated with Devoe 253
Suction Piping: 3" 150#
Includes 3" Basket strainer and Isolation valve on suction piping
3" Filter vessel isolation valves and 3" bypass valve circuit
Discharge Piping: 2" 900/1500#
Manual startup bypass valve
Isolation valve
Check valve
PSV and startup bypass valves outlet go back to main pump suction
Drain valves to drain sump
Drain Piping to be 1" and will drain into open drain sump from:
Basket strainer drain
F-161 Filter vessel drain
Suction piping between P-100/P-200
Discharge piping
P-200 stuffing box drain
Piping Notes
Built to ASME B31.3 Latest Edition
Discharge piping (900/1500#) to be sch. 160
Suction (150# ANSI) piping to be sch. 40
All Piping 10% NDT, no PWHT
Internally coated
Piping includes flanges for all instrumentation connections (No TOL's)
All pipe/fittings/bolting/ linebacker gaskets materials to be standard
Skid & Building
One (1) Surplus Never Used Skid and Building:
12' W x 18'L x 9' H Gable S
Checker Plate Flooring
2" Drip Lip Around Skid
Drain Sump
High Level Sump Switch
Filter, Suction and discharge piping, pump stuffing box area drain into sump
Gable Style Building
Ice Rakes
Ridge Vent
Choice of 12VDC start Catadyne heater OR 15Kw Electric Hazloc Heater
Eavestroughs and Downspouts
One (1) Double Man Door
One (1) Single Man Door
3" Fire Retardant Spray Foam Under skid Insulation Insulated Skid
There is no electrical included in this quote.
QC/QA Documentation
Operation, Parts, Service and QA Manual provided with package c/w:
Drawings include:
P&ID
GA Plan Elevation ISO
Structural Steel
Pump Curves
Installation and Operation manual
Parts and service Manual for all equipment
Data sheets for all equipment in package
QC Manual from approved shop with ABSA – AQP
AB-83
U1A for Filter vessel and Pulsation stabilizers
Listing Title - Qty:
(Water Injection/Disposal Package) + VIDEO TOUR
Pump Package Title - Driver Type:
(Electric)